My nephew is tying the knot in September and I have been told it will be a formal affair. I have been thinking and planning my outfit over the last month or so. Recently I took a class on Craftsy Sew The Perfect Fit with Lynda Maynard. I thought this might be the perfect opportunity to try out my newly gained skills or see if I actually learned anything at all. I really can't recommend this class enough. Lynda Maynard has a wonderful teaching style. She is organised and methodical in her teaching method, which makes the class very easy to follow. She clearly demonstrates different fitting woes and the way to correct them, on real life models (and they are not all Barbie doll shapes). She then, very methodically demonstrates how to transfer these changes to the paper pattern. It's almost magical. The pattern used for this class is Vogue 8766.
I had a few patterns that I liked certain bits of. So I thought I would combine three different patterns to create my outfit. These are: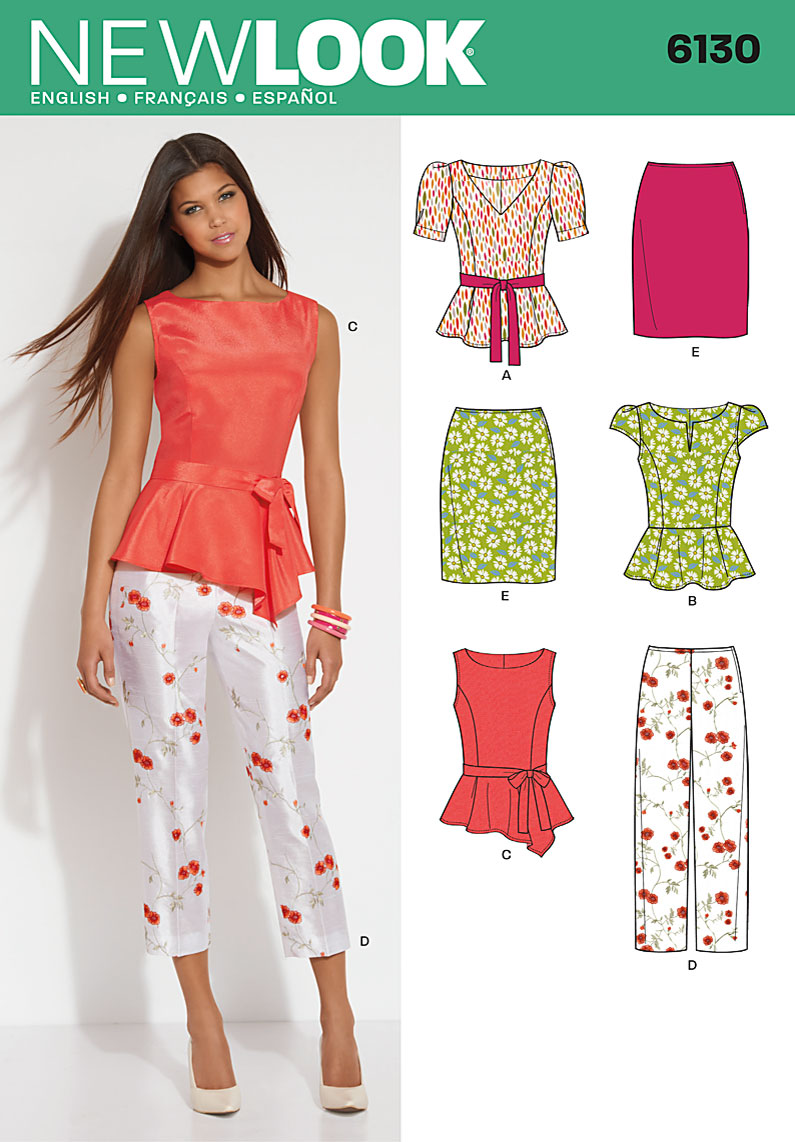 I love the princess seams and the shaped peplum of View C and the neckline of View A.
VOGUE 8766: I love the 3/4 sleeves. They have 3 small darts at the sleeve cap to shape them.
BHL Charlotte Skirt: I love the highwaisted skirt and the shaping and length.
I started off making a calico muslin of the bodice. The only drawback is that you really need someone to help you with identifying your fitting issues, once you have made up the muslin. My dear partner struggles to pin two pieces of fabric together without the pins falling out two seconds later, so I had to rope my Mum in to help. She really struggled with the idea of slashing the muslin and adding in strips of fabric to correct the fit. It took me quite a lot of convincing that it was only a muslin (never intended to ever be worn), and it was ok to cut holes in it. She was very worried that she would ruin it.
My slashed muslin with strips of fabric added.

There was quite a bit of slashing to do, to get this pattern to fit my body. I am quite rectangular, not much waist definition. I am really hoping that the peplum is going to give the illusion of a waist.
Here are the changes added to the paper pattern.
Using my altered pattern I created a second muslin of the bodice to double check that my alterations were correct. I included the sleeve this time. I had to add more circumference to the sleeve head, tapering to the sleeve hem, to fit the bodice armscye. This worked out surprisingly well.
Notice the small darts in the sleeve head.
I decided that I wanted to use a brocade fabric to construct my outfit. I had either a royal blue or an emerald green colour in mind. I should have learned by now, that the fabric shop will never have what I have in mind. It would eliminate the inevitable disappointment. Anyway, after a two hour trip to the nearest Spotlight (on route to return my daughter to the airport), I emerged from the shop with this Purple Rose Brocade.
Purple Rose Brocade purchased from Spotlight ( the colour is deeper in reality...hard to photograph)
I suspect this is 100% polyester. It is quite stiff and frays like crazy when cut. I paid $19.99 per metre which I thought was quite expensive, but I had little choice. I guess I am starting to warm to it.
Stay tuned for the next progress report.
Happy Sewing.