Well, I have finally made my partner a proper men's shirt. (I have been promising this for a while now), just in time for his birthday.
In preparation to make this shirt, I purchased Pam Howard's "The Classic Tailored Shirt" from Craftsy. This class was fantastic. Pam is such a great teacher. She explained every step of making a classic tailored shirt very clearly and demonstrated every step in great detail. She even made a couple of mistakes herself, but then explained and showed how to fix those mistakes. I learnt so much from this class and it certainly gave me the confidence to make my own classic tailored shirt.
I used McCalls 6044 in a large with a few alterations.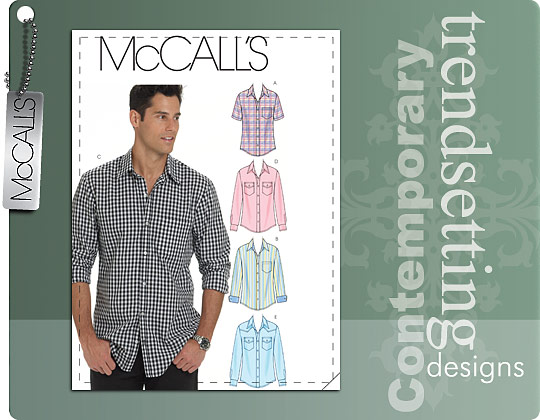 I eliminated the separate front band, by cutting the front band and the shirt front as one piece. I also eliminated the seam in the two piece sleeve, so that the sleeve was only one piece. I redrafted the back of the shirt to create a proper yoke and yoke facing. I made these changes simply to make the shirt pattern more like the Kwik Sew pattern that Pam was using in the class. I also made a tower placket. The Craftsy class did not cover a tower placket, only a continuous placket was demonstrated. However, Pam did provide a pattern for a tower placket in the class notes and a link to her Tower Placket Tutorial.
The fabric I used was 100% cotton shirting purchased online from The Remnant Warehouse and I see it is still available. It was a lovely soft cotton and easy to work with. Although the stripes gave me a headache during the cutting out process. It took a lot of time and thought to get the stripes placed to look their best on the pattern pieces. I was quite pleased with the result. In fact, I matched the stripes so well on the pocket that it is almost invisible.
Pocket
Here are some photos during construction:
Pam's Yoke Trick (aka Burrito method)
After joining shirt fronts to shirt back outer yoke at the shoulder seams, the shirt fronts and shirt back are rolled up exposing the yoke facing, which is then wrapped around the rolls (like a burrito) and pinned to the shoulder seams. After sewing these seams, the rolls are gently pulled through the neck opening revealing a lovely neat fully enclosed yoke.
Yoke facing offset slightly to avoid pulling before stitching shoulder seams.
Setting the sleeve in flat with the "Flat Felled" seam pinned and ready to sew.
Collar and Collar Band ready to attach to neckline.
Inside: Intersection of Flat Felled side seams and armhole seam.
Inside of shirt tail hem.
Tower placket and cuff.
I really enjoyed the construction of this shirt. Everything was finished off so neatly. As Pam Howard said "You could wear this shirt inside out if you wanted to". There was some hand stitching involved. The collar band and the cuff facings were hand stitched using a fell stitch, and the buttons were sewed on by hand. This was a nice touch and as Pam Howard said " it makes it a handmade shirt. You can sew a shirt entirely by machine, but you can go to the shops and buy one of those." I have to agree that the little bit of hand sewing made the construction of the shirt more personal and I felt that I was putting a lot of love into it.
Front
Back
Collar
Back yoke and collar
Cuff and sleeve pleats
Overall I am really pleased with how this shirt turned out. My partner even wore it out in public when we went out for dinner to celebrate his birthday. There are a couple of changes I will make for the next one ( and yes, there will be a next one or two or maybe even three). I will add about 6cm to the sleeve length and also increase the length of the tower placket. My partner is very tall (6' 4") and slim and he has extra long arms.
And to finish off....how appropriate was this birthday card?
Happy Sewing